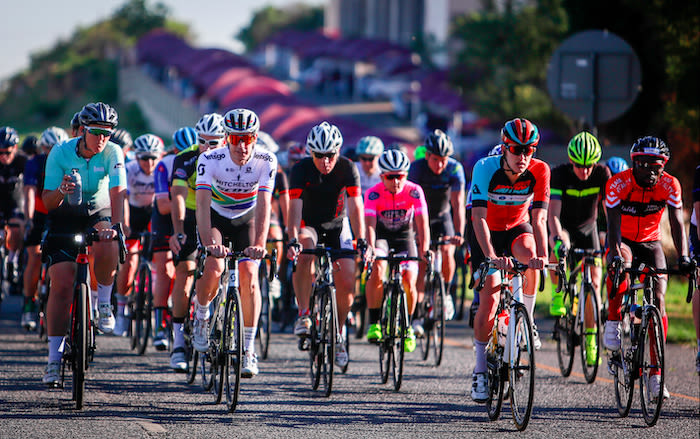 FROM HAY BALES TO HYDRATION: HOW TO RUN JOBURG'S MOST ICONIC CYCLING EVENT
JOHANNESBURG - 94.7km of tarmac. 12km of fencing. 4,000 hay bales. 80 vehicles to build and strike the route.
And that was before the 2019 edition of Johannesburg's most iconic cycling event even started!
23,000 cyclists battled it out on Sunday, 17 November, during the 947 Discovery Ride Joburg. They were kept hydrated and energised in the morning heat by 300,000 servings of water, Coke and Powerade. Over 20,000 supporters cheered them on from official supporter zones or from the city's sizzling pavements, while 700 members of the South African Police Service were on hand to keep everything running safely and smoothly.
Behind the scenes, it took more than 3,000 staff to pull off the event - from call centre agents and cleaners to registration officials and route builders. A truly massive annual feat.
The much-loved cycle challenge has been running for 23 years now, testament to its lasting popularity among residents (even when they're inconvenienced by road closures) and to Primedia Broadcasting's consistent delivery of a world-class sporting event.
"This year we welcomed a new sponsor, Discovery, along with a new event name and the inaugural 947 Vitality Short Ride," says Primedia Broadcasting's Group Head of Events, Alexia Poulos. "Discovery 947 Ride Joburg is the second largest timed cycling event in the world, and the network of skills dedicated to this event is overwhelming. From 947, we thank our partners in helping us bring a community together and shut down the streets of Joburg for one day."
The 947 Discovery Ride Joburg wasn't only about cycling, though. Poulos says that every year, the event also raises significant sums of money for a good cause. "The residents of the City of Joburg came out in their droves to support the cyclists and we anticipate that through Ride For a Purpose, now in its 8th year, charities and causes have reached the 100 million Rand mark in fundraising."
This year's inaugural Vitality Short Ride, a 40km course for leisure cyclists and those just starting out in the sport, was introduced with one goal in mind: to get more people moving - to help them become healthier and more active.
"We congratulate every participant who dedicated time and effort to getting fitter for this event, and hope it encourages friends, family and supporters to join them in moving more for better health," says Iona Maclean, Head of Experiential Marketing at Discovery. "The new 947 Vitality Short Ride in particular has proved a great success in making cycling a more inclusive sport for novices – we trust that it serves to whet appetites for more active lifestyles in the year to come."
To find out more about how you can get involved in this and other Primedia Broadcasting events, email us now.